Copy/move file
To copy or move a file select the command [File\Copy - F5].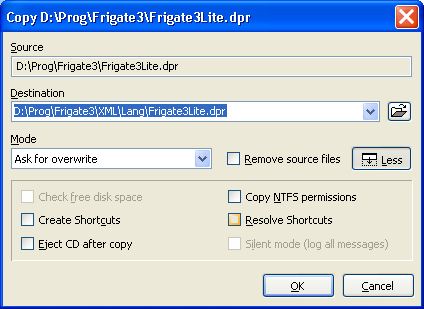 You may easily paste current date into destination path editor F5.
There are two modes of File copy dialog. To switch to the other one press Ctrl+PageDown\PageUp.
Advanced mode allows you to:
—reate shortcuts - make shortcuts which point to the source files
Open shortcuts - copy not the shortcut, but the file it points to
Copy NTFS rights
Extract CD after the operation is over
What is pleasant about copying in Frigate is that the user interface is not frozen during copying. Frigate can perform any number of conccurrent operations.Press Ctrl+PageDown and go on working.