Toolbar - Main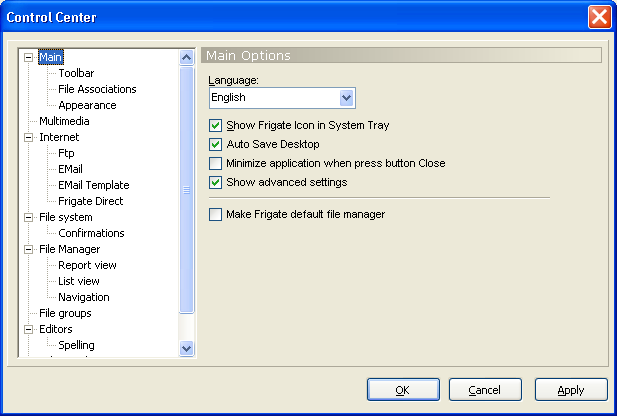 Language - Select the interface.
Show Frigate icon in system tray - When Frigate is minimized the icon appears in the system tray next to the clock not in the taskbar. Click this icon to restore Frigate.


---

Note: You can also restore Frigate by Alt+Tab. If you have Win2000 press Enter besides Alt+Tab.
Auto save desktop - Check this checkbox to save desktop after Frigate is closed.
Minimize application when press button Close - Close button will minimize Frigate not close it.
Show advanced settings - check this checkbox to see advanced settings. Note that advanced settings are for advanced users!
Main - Toolbar
Menu style - Select the style you like: Standart, OfficeXP or WindowsXP.
Text options - selective text on the right, show text labels or no text labels.
Icon options - Select icons size (small or large).
Main - File associations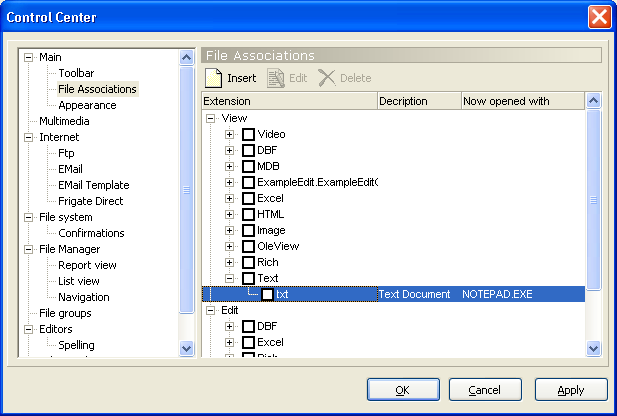 You can select Frigate as the program by default used to view, open, edit files of the chosen type. To do this check the box near extension or a group of extensions you want to associate Frigate with.
Main - Interface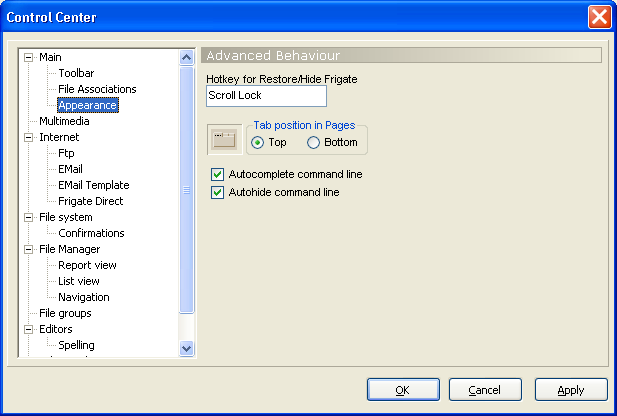 Hotkeys for Restore/Hide Frigate - Select the hotkey that restores/hides Frigate.
Tab position in Pages - Select the position of bookmarks (Top/Bottom).
Autocomplete command line - The command line will be automatically completed.
Example: If you ever typed primer.exe 1.txt 2.txt in the command line, Frigate will complete primer.exe with 1.txt 2.txt when you type it again.