Text editor
Highly configurable enviroment

Configurable syntax color highlighting

Code Templates (Ctrl+J Code Templates)
Vertical block (Ctrl+Shift+C)
Export to RTF or HTML with colour highlighting, which is extremely convenient in publicating your sources into web.
Method Navigator (Alt+M), a handy tool for quick search of a necessary function or procedure in big files.
Html support, Wizards and Tool Tips.
Win, Unicode, Dos, Koi8, Mac, Iso support
Unix and Mac format file support
Text editor remembers current position, code, bookmarks.
Editor sittings
To get to Editor settings use Settings in editor menu
Spell checking
Now Spell checking is available only for txt, htm, html, php files in Office 95/97/2000, but not in Office XP. Put it on\off by View/Spell checking
Method Navigator
| | |
| --- | --- |
| Method Navigator (Alt+M), a handy tool for navigation along methods and procedures. | |
Setup Method Navigator
Built-in Pascal, Ini, CSS support. For other languages there is simple setting. You should set a list of words of different functions, procedures and other logic blocks in the page of Editor settings Code Insight->Advanced

Example
Procedure, Function, Trigger, Table, View для MS SQL.
function для PHP.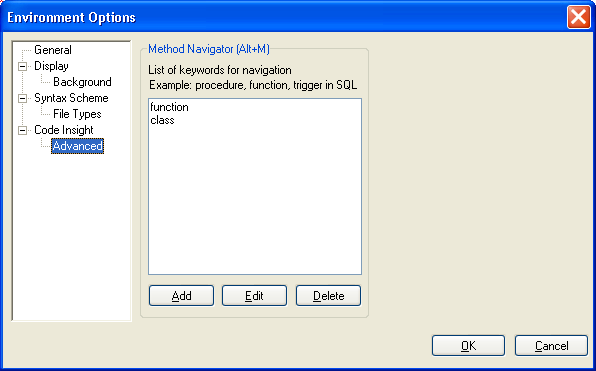 Background setup
You can set the background by Display\Background in Editor settings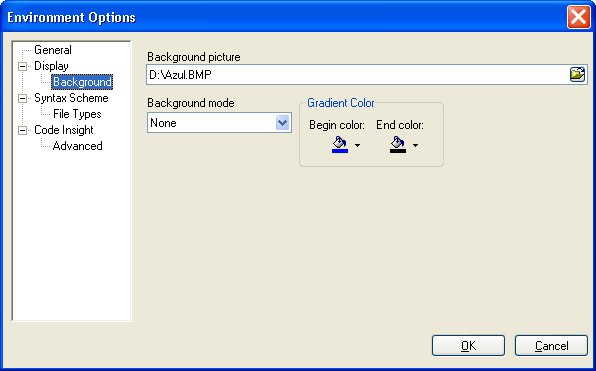 Html support
HTML support plugin allows you to view (F9, F12) верстаемый file. Tags tip (Shift+F2) shows a list of tags corresponding to the current tag. For example, if the cursor is in the table, Tags tip will display parameters of the table. We also added a list of most often used tags for your convenience. You can find it in the command Tags.
| | |
| --- | --- |
| Ctrl+Shift+P | <P> Paragraph |
| Ctrl+Shift+B | <BR> Перевод строки |
| Ctrl+Shift+T | <TABLE></TABLE> Table |
| Ctrl+Shift+R | <TR></TR> Line |
| Ctrl+Shift+D | <TD></TD> Box |