Control panel - Internet
Internet - Email
You can send any file straight from Frigate. Frigate will do it itself or use your mail client. To send a letter select File/Email.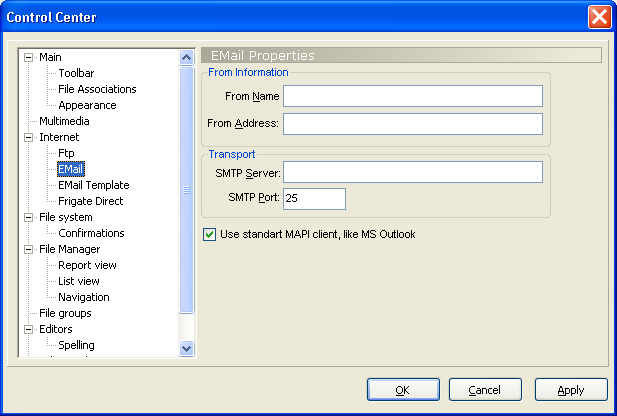 From address - Type the name and address the recepient will see in his/her mail client. This information will be shown in all the Frigate letters.
Transport - Select SMTP server and SMTP port. Your internet provider will give you this information.
Use standard MAPI client like MS Outlook - Check this checkbox if you want to use your mail client (Outlook or The Bat!).
Internet - Email template

Email template - It's a template for the letter.

Internet - FTP Set proxy settings here.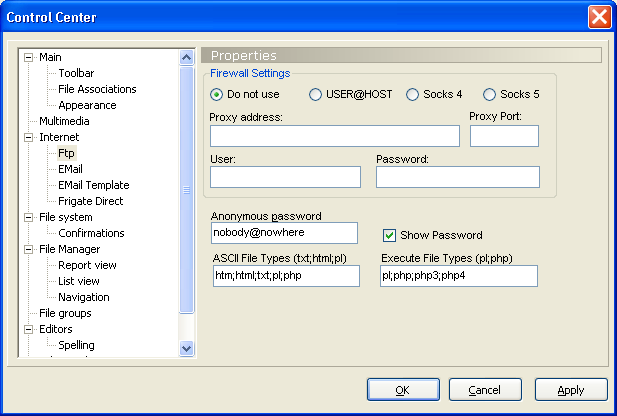 Proxy settings - These are the settings for your proxy server. Get the information from your system administrator.
Anonymous password - If there is no name in FTP-˝onnection dialog Frigate will use anonimous password. This password will be used on ftp sites with user name "anonymous".
Show password - Show/hide password.
ASCII files - here you can select text mode (Type A) of opening the file on Ftp. A not often used option.
Execute file types - When you copy php\pl files you have to enter attributes of the execute files. The files which extensions are typed here will be marked as execute at once.
Internet - Frigate Direct

Automatically poll network - Check this checkbox if you want Frigate to poll network. Set the interval here (days).