As we already mentioned in the "Frigate 3 as a Descendant of Norton Commander" article, Frigate belongs to the family of file managers that have two-panel interface and support all traditional Norton Commander hot keys, for example, F5 means "Copy File or Directory", F8 stands for "Delete", and Ctrl+R refreshes the panel. But there are a lot of other file managers that can do exactly the same, Total Commander being one of those that come to mind. So, why do we still insist that you should choose Frigate 3? What makes it stand out?

First, the powerful built-in syntax-defined text editor that supports standard HTML syntax and basically, all popular programming languages, will sure be loved by HTML coders and programmers. For programming languages, the Method Navigator will allow you to quickly find a function that you need, or a specific block within the .ini file. The WYSIWYG viewer of web pages can be integrated with your web server to run and debug Perl and PHP scripts directly from Frigate 3. There is also a set of templates for HTML, helping you speed up the coding process. You will find nothing like this in the Total Commander file manager, yet notice that the price of both products is the same.

But this is not all. Frigate's text editor supports calculation of the total and sorting inside the text blocks (which already reminds us of the powers of Excel).
The signs of total Excellence
Let's see what else makes Frigate 3 better. As we know, Total Commander creators brag about the fact that their product can compare files and synchronize directories. Let's look what Frigate 3 can do for you. We don't just compare folders and files within them. We build a complete tree of subfolders and synchronize the whole tree, at the same time giving you another opportunity to manage files within it, for instance, to copy them with one click only, and a lot more.

See screenshot below.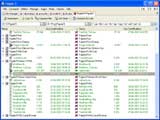 Screenshots
And even this is not all! Frigate 3 has a set of built-in utilities to manage your computer, like StartUp Manager and Size Manager. The latter can build histograms showing you how much of your hard drive space each folder takes.
For your convenience, Frigate has a built-in Calculator.
Another handy feature is TreeNotes.
See screenshot below.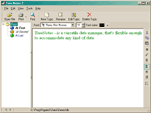 Screenshots

Using it, you can make notes, arrange them by categories and organize those categories in a tree.

The above mentioned features, along with the FTP client, advanced file viewers (eg, graphic file viewer supports the thumbnail view option) and other outstanding advantages, definitely make Frigate one of the most remarkable Norton Commander descendants and the best solutions for those who look for a really powerful file manager at a reasonable price.
Articles
Frigate 3 as a Descendant of Norton Commander
Frigate 3 as a Replacement for Windows Explorer
File Manager for Experienced Users of MS Windows